Among project management platforms, Jira has become one of the best options to go for. However, most managers need additional roadmapping tools for visualizing roadmaps and strategic planning to make things easier.
In this article, we'll explore the best tools that seamlessly integrate with Jira, empowering teams to align initiatives, improve collaboration, and communicate plans effectively.
What are roadmapping tools?
Roadmapping tools are management software or platforms that empower organizations or individuals to create, visualize, and communicate their strategic plans and product development roadmaps.
These tools provide a structured framework for setting goals, defining strategies, prioritizing initiatives, and tracking progress over time. Additionally, they offer various features to promote decision-making, collaboration, and alignment across different stakeholders.
Some popular roadmapping tools or platforms include Jira, Trello, Asana, Airtable, ProductPlan, and RoadMunk. Among these, Jira is probably one of the most widely used tools for roadmapping and project management.
However, it is difficult for one platform or software to satisfy all user needs. Therefore, additional tools are here to support creating advanced roadmaps for Jira.
Best roadmapping tools you can try for Jira
Without any further ado, let's get into the best tools for roadmapping in Jira. After spending a quite amount of time, we have compiled a list of 6 tools you can try to develop roadmaps for Jira.
The first tool on our list is Routemap from DevSamurai. And as you may tell from the name, it mainly focuses on empowering users to develop agile and advanced roadmaps for Jira.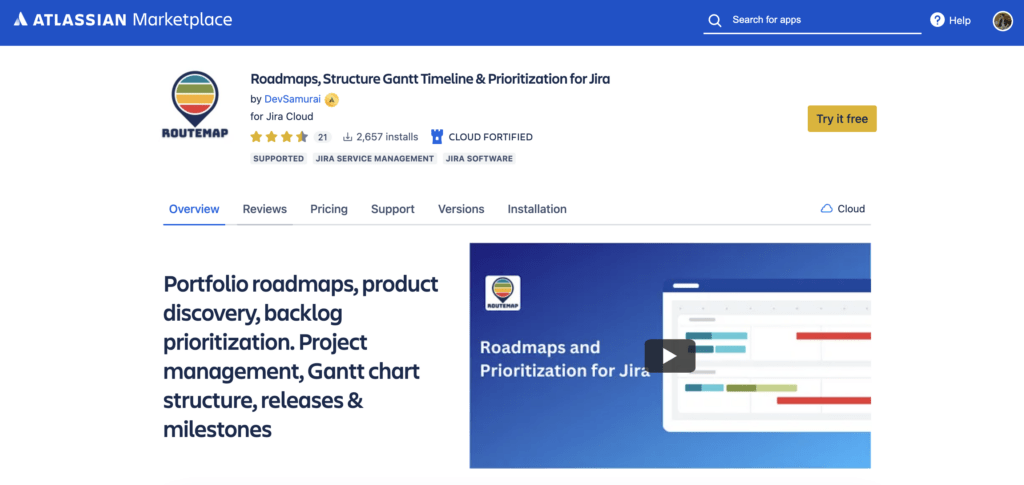 Routemap allows users to develop roadmaps for product and project management with flexible and advanced features. They can simply drag and drop Jira issues and manage all tasks in a single portfolio roadmap.
Moreover, this roadmapping tool provides the ability to create roadmaps for features and releases, bringing versatility to Jira users. It also let users set milestones and define custom swimlanes with many preferential roadmap customizations. All to help Jira users stay hyper-focused on their work and have the best experience possible.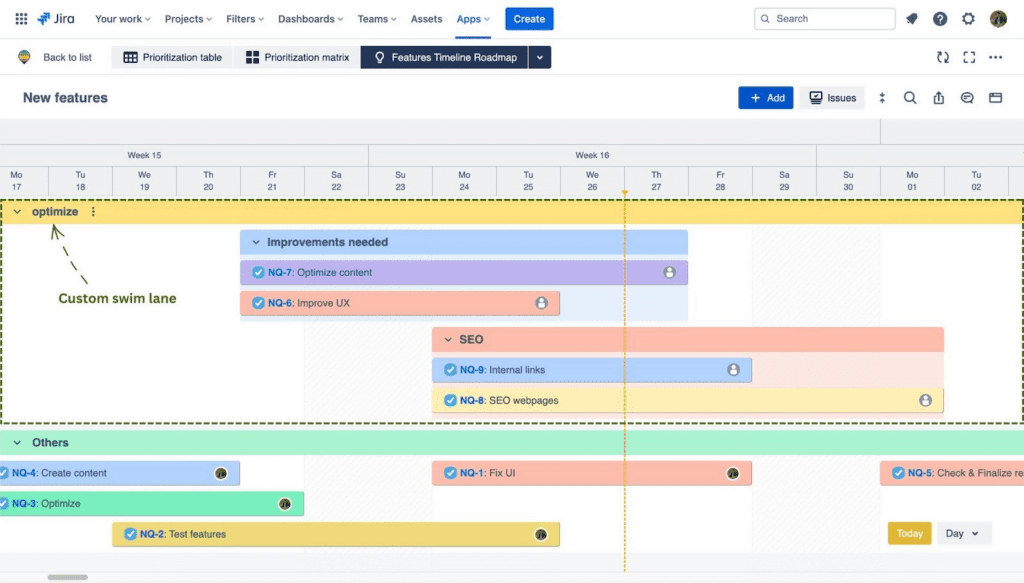 What makes it special is that Routemap also offers a prioritization framework feature. This feature empowers users to evaluate and prioritize their roadmaps, tasks, and projects more effectively by using a pre-built template or a custom one. As a result, Jira users can identify, refine ideas, and develop a product that satisfies customers' needs and the company's standards.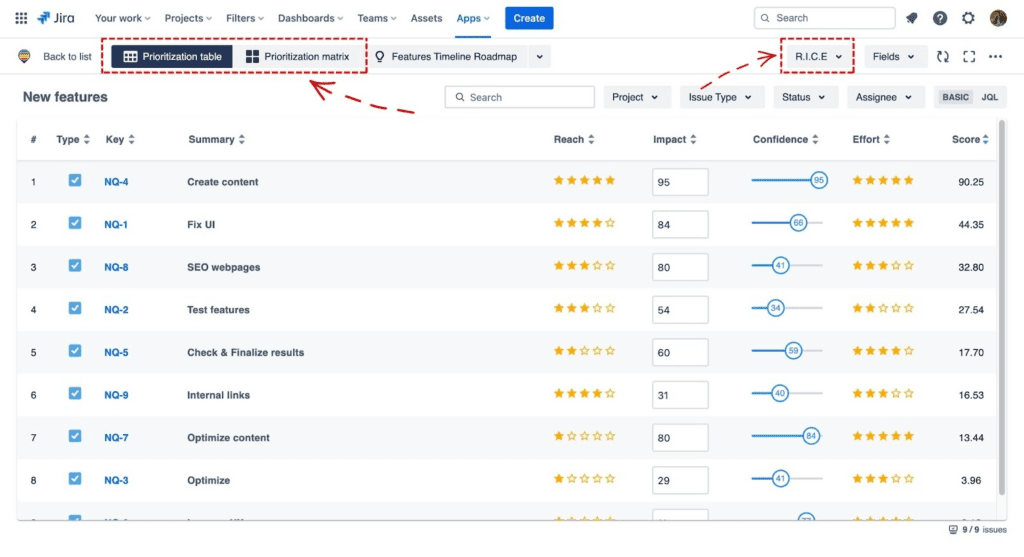 The next on our list of best roadmapping tools for Jira is ProductGo. Although it is similar to Routemap, this tool also has some tricks on its sleeve.
As you can tell, ProductGo can provide any feature you need to develop an effective roadmap. From planning tickets and setting milestones to filtering roadmaps using fields, this powerful tool is here to help Jira users with roadmapping effortlessly.
Besides roadmapping features, ProductGo also features the User Story Map ability. With this feature, you can define and attach personas to users' journeys and stories, allowing your team to understand the end users for whom the product is built.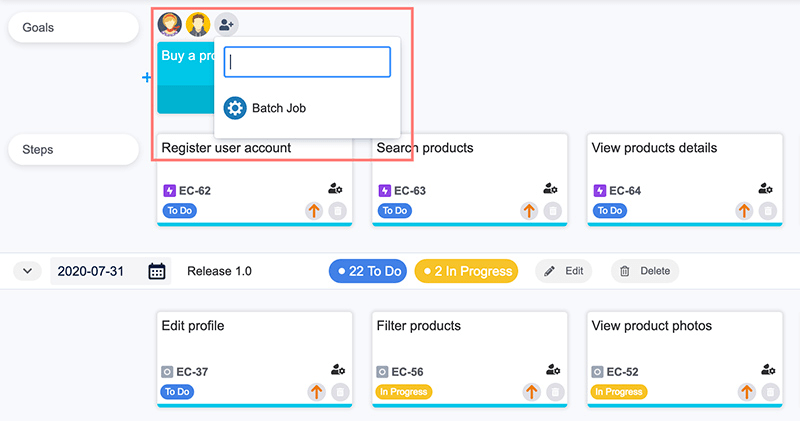 If you're looking for roadmapping tools for Jira with more features on the table, this one will definitely satisfy your needs.
3. Aha!
This is another option for roadmapping tools that you can try. With a simple design, Aha! roadmaps for Jira can easily get the attention of users.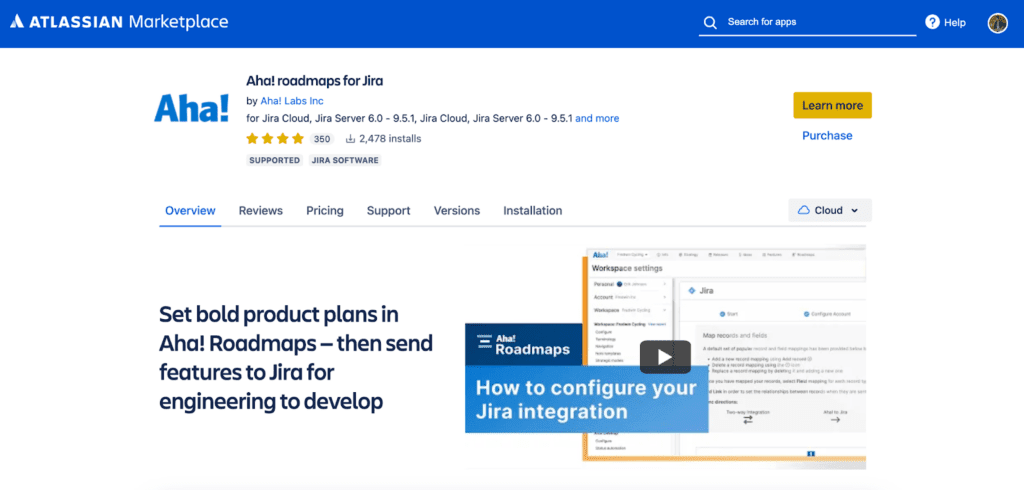 Quite similar to the others, this tool also allows for creating visual roadmaps and setting product plans. Additionally, Aha! roadmaps for Jira helps users track progress in real-time.
As a result, the whole team can stay aligned and up-to-date with each other work for a better workflow and management.
4. Swanly
If you are looking for a roadmapping tool with a fresh look, Swanly can be the one. With it, you can easily plan projects with portfolio-issue roadmaps or create cross-issue roadmaps.
Besides, this tool also offers the ability to drill down to the structured hierarchical view. This empowers Jira users to track project and release phases as well as schedule them on a roadmap.
And by providing templates, Swanly lets users create projects and release checklists in no time.
5. Release Management: Workflows, Calendar & Roadmaps
The next roadmapping tool on our list is Release Management: Workflows, Calendar & Roadmaps. This tool provides Jira users with Kanban-style Release boards to organize cross-project releases and versions.
Similar to other roadmapping tools for Jira, you can expect to have full management of your roadmaps, and you can define custom workflows or add milestones to your product releases. Besides, this tool also let Jira users track package or version progress with provided progress bar and spot potential delays with ease.
And as you may have noticed, this tool focuses mainly on release management. So, if you're looking for a roadmapping tool for tracking releases, why not give it a try?
6. Planyway: Resource planning, Roadmap, Time tracking
If you want a more feature-packed roadmapping tool for Jira, this can be your next alternative. First off, Planyway offers the ability to build Jira roadmaps and track work in progress.
Additionally, this tool also provides a portfolio roadmap to help you manage all projects in only one dashboard. Therefore, you can have a better view of how each work is being handled.
Moreover, Planyway offers the ability to track time and report for all Jira users. This feature allows users to track time and compare it with the estimates for more insights, As a result, they can know the obstacles affecting their performance and optimize their workflow.
Conclusion
So there you have it! These are our selections for the best roadmapping tools for Jira that you should not sleep on. With the help of these tools, you can build a product and project roadmap effortlessly and manage your work effectively.