Roadmap prioritization has always been the way to go for product managers when developing new features or products. If you prioritize and focus on the wrong initiatives, you will be wasting the company's valuable time and resources.
Therefore, we will provide you with 4 steps on how to prioritize your product roadmap correctly and effectively. Let's dive in.
What is the purpose of roadmap prioritization?
It is simple to come up with a roadmap full of ideas and features that we want to bring into the product. However, it is nearly impossible to do all that with limited resources and time. Therefore, prioritizing initiatives in your roadmap is vital.
With roadmap prioritization, you can allocate resources effectively and focus on the most important initiatives.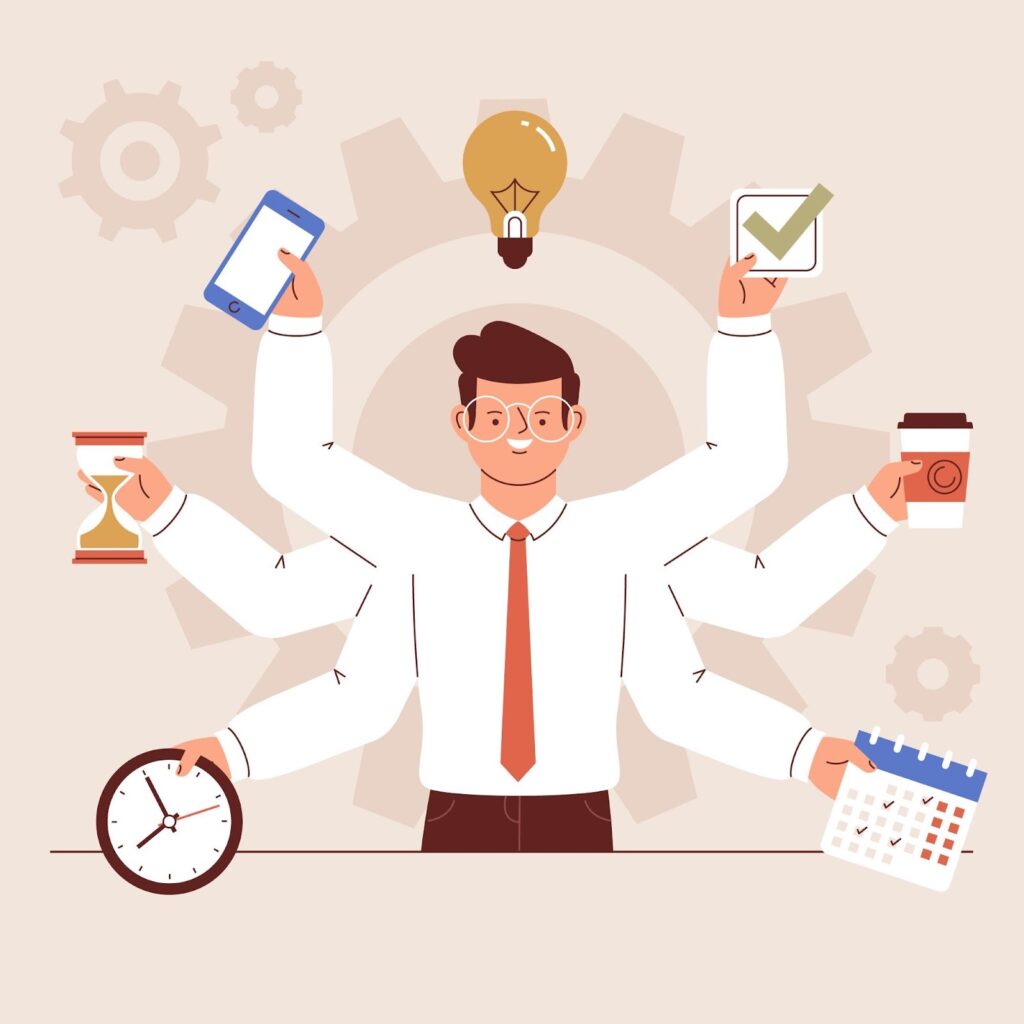 Normally, there are two main approaches to prioritization:
You will prioritize the initiatives which you and your team, or stakeholders, think are worth the effort. And hopefully, things will work out.
You start prioritizing by identifying which features get the most engagement and which ones don't. You can do that by understanding the users' problems, researching the market, or depending on users' feedback.
Without a doubt, the second approach is what you should go for to prioritize your roadmap. You will have a better chance of succeeding when understanding and delivering what users need the most.
4 steps to conduct roadmap prioritization
By following these steps, you can see the big picture and focus on prioritizing your product roadmap more effectively.
1. Gather data for your roadmap prioritization
First thing first, you need to collect data before prioritizing. This process also helps you define your objectives for your product and develop a successful strategic roadmap accordingly.
Besides, these objectives should align with your company's overall vision and business strategy. You should also consider factors or statistics such as market trends, customer needs, competitive analysis, and growth opportunities. These are all vital data that you can utilize to prioritize your roadmap.
Here are some methods you can use to gather data:
Market research: this is one of the most straightforward ways to collect information. You can have a better understanding of what initiatives your product needs or what features will solve the users' problems.
On-page surveys: many businesses use this conventional method to lure customers into telling their desires. Besides, this is also one of the cheapest ways to gather information. However, there is no guarantee that users will complete these surveys as they are usually bothersome.
Direct user feedback: this method can be done by asking users directly via CRM (Customer Relationship Management) software or mail. Organizations can sometimes utilize the platform they're working with, like Atlassian Jira, to search for feedback in the review section or simply ask users to create a request ticket.
User in-app behavior: this method requires product managers to monitor how users interact with the product, defining which features they use the most and which don't. This will allow product managers to have an intuitive look to determine the roadmap prioritization.
By analyzing the results you've gathered, you can prioritize initiatives that contribute directly to achieving those strategic objectives and goals.
2. Identify your initiatives with the highest values
So, you've gathered all the information needed and made a list of initiatives and product issues.
At this step, you will have to decide which ones are worth working on. This also means that you have to remove other initiatives or issues from the "to-do" list or tag them as "do it later."
For roadmap prioritization, you have to assess the potential impact and effort required for each feature or initiative under consideration. You can apply the Value vs Effort matrix to identify the highest values.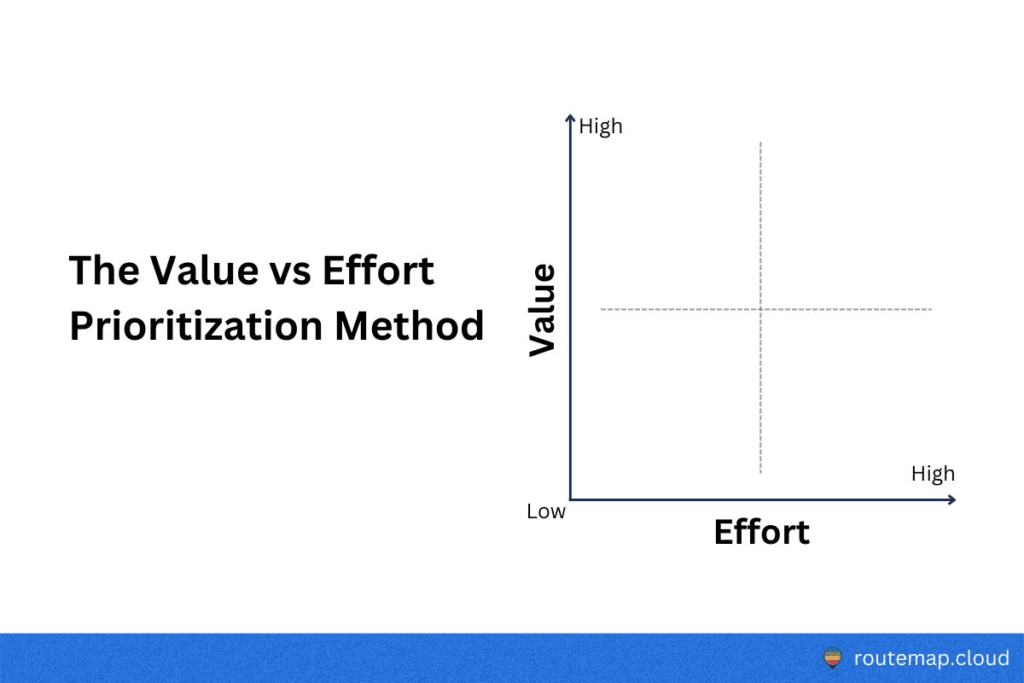 Impact refers to the value it brings to users, the business, or both. Meanwhile, Effort refers to the time, resources, and complexity involved in implementing the feature.
By applying the issues and initiatives from your list to this framework, you can determine which ones to be prioritized.
If you want to know more about Prioritization for Product Managers, you can read our dedicated eBook.
3. Score and prioritize your initiatives
Now that you have removed all the unnecessary initiatives (or known issues), it's time to evaluate and prioritize the remaining ones.
To have an effective product roadmap prioritization, you can think through and "score" the benefits, such as increased revenue, user satisfaction, market differentiation, and strategic alignment. Similarly, you should identify the costs associated with each item, such as development resources, time, and potential risks.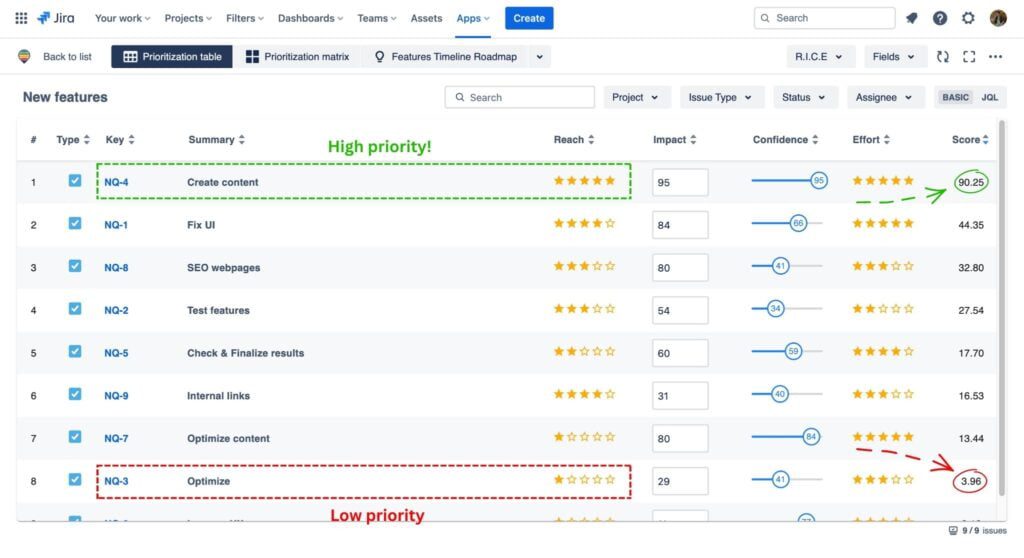 With this implementation, you will find assessing your initiatives less unforgiving. Especially if you're working on Jira, you can try Routemap to prioritize much easier with pre-built templates.
Still, you should keep in mind that using these scoring models is not the only factor. You should also account for your competitors, market, and customers if you want an effective product roadmap prioritization.
4. Manage and share your product roadmap with prioritization
Once you've pulled things through and decided on features to be prioritized, you can now engage your stakeholders. They include customers, development teams, and executives for even more data and insights.
This step will provide more perspectives to the table, like customer needs, market dynamics, technical feasibility, and business priorities. Additionally, their input to the roadmap prioritization can help you identify blind spots, uncover hidden opportunities, and ensure alignment across different departments and teams.
As a result, you can further analyze and evaluate your initiatives to a higher level and focus more on providing value to your customers and organization.
Conclusion
There is a ton of work to do when developing a product, and only more will come. Therefore, it is important to bring roadmap prioritization to the process. It helps you optimize your team's workflow and evaluate the feasibility, allowing you to quickly decide if one initiative is worth your time and effort.
More importantly, it is recommended to re-prioritize your roadmap regularly to keep it updated with changes and stay aligned with the big picture.