The new version of the Routemap 1.3.6 release is here to bring you more customization abilities to your roadmaps. Besides, we also provide some extra improvements and bug fixes to enhance your experience using our app.
New features in Routemap 1.3.6
1. Expand or collapse all lanes in the menu
In this new version, Routemap's users can choose to have their lanes in a roadmap expanded to view every task and issue. Or, they can decide to collapse all lanes from the menu to keep either the future roadmap or the completed one hidden.
This feature will allow users to have a cleaner roadmap to work without worrying about mistaking one task for another.
2. Expand or collapse all containers from the lane menu
This feature serves the same purpose as above with a minor difference. As you can tell, it will allow you to expand or collapse the container within one swim lane, keeping your "lane" clean and tidy.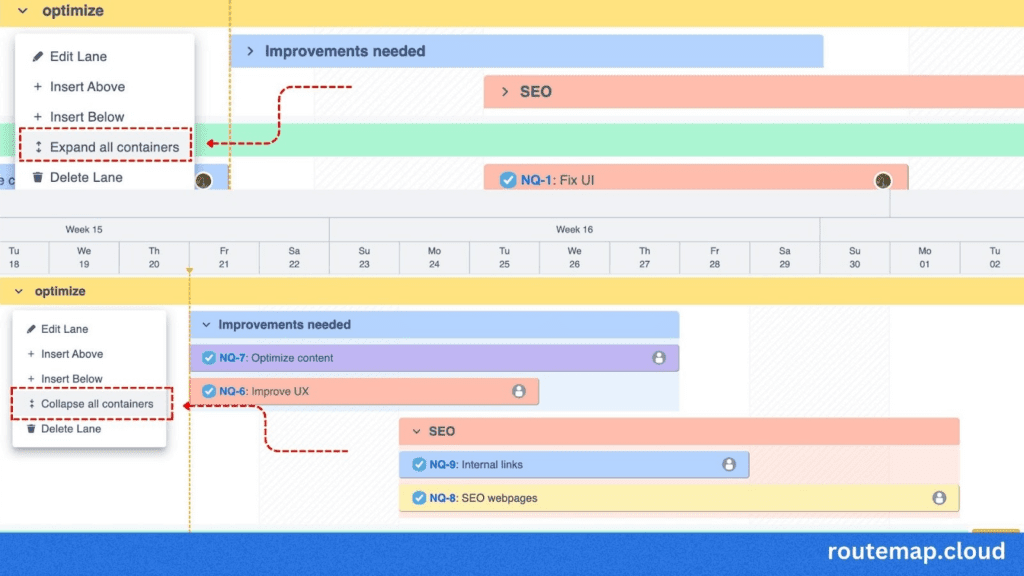 These new features are only some small touches to the app, but we expect they can deliver positive results to your workflow.
Other improvements and bug fixes
To further enhance your experience using Routemap, we also worked on things like validating JQL before submitting and improving the application's UI.
Additionally, we fixed known bugs relating to viewers editing the issue link and changes failing to sync with Jira issues.
What do we expect to deliver to our users through Routemap 1.3.6 release?
As mentioned above, we hope to further improve our application for the roadmap for Jira, helping our users perform better in their work. To stay learn more about the app, you can read our article What is Routemap. You can also stay updated by following us on social media or watching Routemap on the Atlassian marketplace.