When it comes to product manager vs project manager, we usually wonder about their differences and how each role affects the work progress. Nonetheless, these roles, sometimes working together, contribute to the company's development.
In this article, we will go through their differences, management processes, and how you can decide which role to go for your next launch.
What is a product manager?
Product managers are the ones responsible for successfully developing a product. They usually start by setting a vision for the product, then conduct market research to understand customer needs fully, and develop a strategy with principles so the whole development team to follow.
In short, a product manager will have to manage every aspect of the product lifecycle, from top to bottom, to develop a product that meets the organization's standards and customer needs.
For more information, you can read more about what product management is and its process.
What is a project manager?
Meanwhile, a project manager is in charge of the projects from start to finish. Projects can be big and require lots of resources, so project managers will have to turn strategic plans into task-oriented activities.
His, or her, main roles include creating teams, making schedules, managing tools and budgets for teams, and communicating with stakeholders until one project is completed.
Occasionally, project managers will have to plan and work through projects with limited resources. They have to determine the budget for each project, necessary tools for teams, and ensure each project's completion on time.
The main differences between a Product Manager and a Project Manager
As you can tell from above, a product manager vs a project manager is relatively different from each other in terms of responsibilities and roles.
The key takeaway is that a product manager will be the one setting the goal, vision, and strategic plans for the development of a product. Meanwhile, a project manager is the one responsible for supervising the execution of those plans.
Here is a quick summary of the differences between the two positions.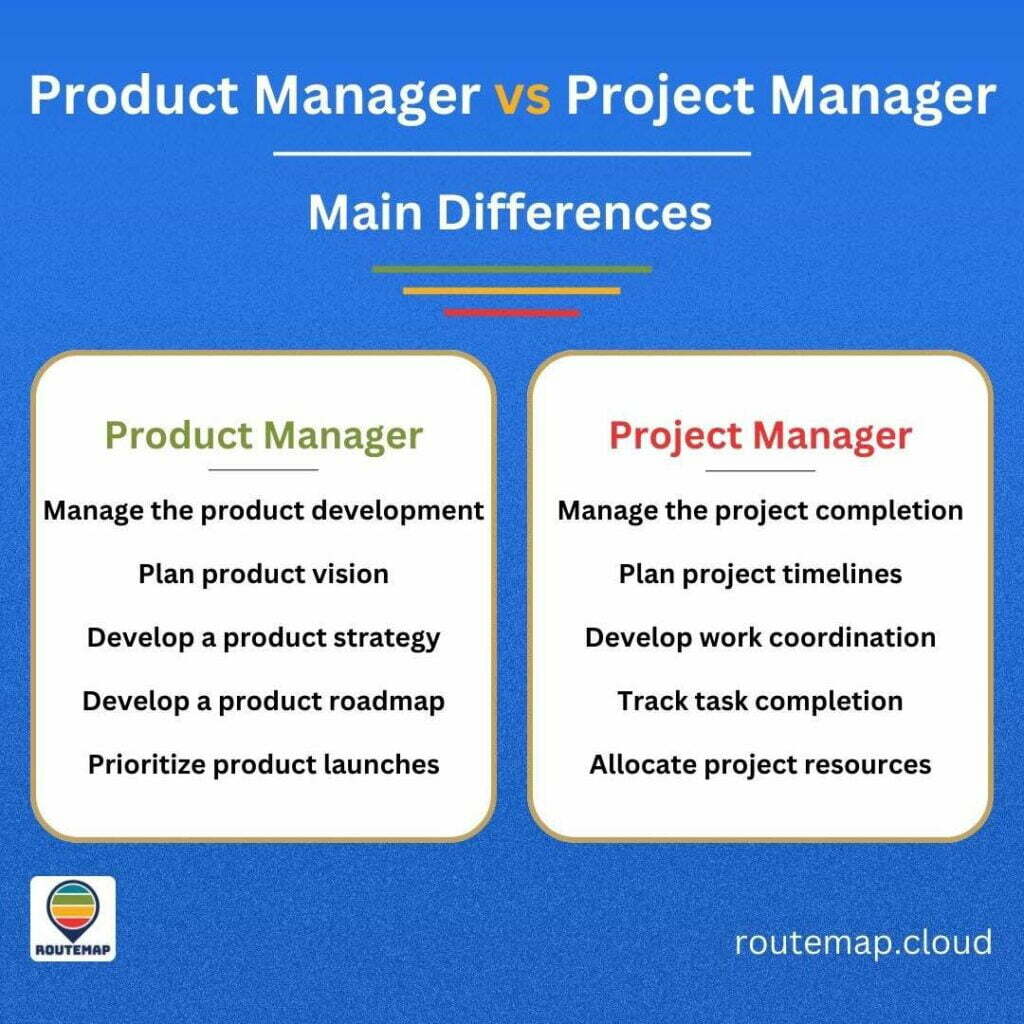 Besides, there are other differences in the software and management process used by each role.
1. Software for a product manager vs the one for project managers
1.1 For a product manager
He, or she, will use software called product roadmap software to communicate the product strategy with other members of the company and stakeholders.
The strategy usually contains the vision, goals, and estimated time needed to achieve them. And to help product managers visualize this strategy effectively, an agile product roadmap software, like Routemap for Jira, is required.
It will help them to demonstrate vision and goals, manage the tasks of each development team member, and set the requirements so the product can come to life.
1.2 For a project manager
Different from software for product managers, project management software is a tool to help managers track and manage all the project's details. You can think of it as a tool used after a product has been approved for development.
In other words, project managers can use project management software, like Atlassian Jira, to build and execute a product development plan. This software helps project managers oversee the whole project, including deadlines, tasks, subtasks, tools or assets needed, collaboration among team members, and sometimes the budget of the project.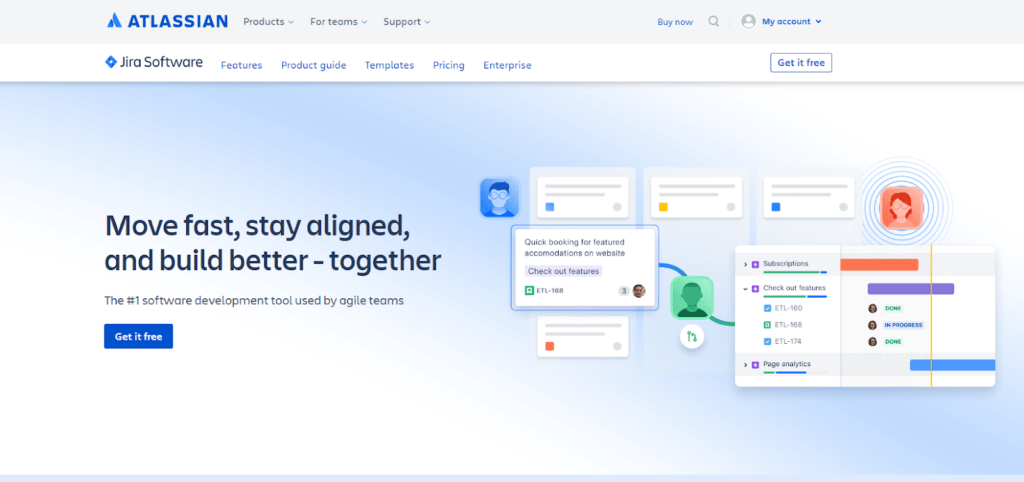 You might be thinking, it is quite similar to a product roadmap software, and you are correct. Still, it functions differently with more distinct goals and requirements.
2. Product management process vs project management process
In a product management process, a product manager's roles and responsibilities mainly focus on the successful development of the product. This process will continue as long as the manager wants to develop the product further.
For more details, you can read more about the product management process.
On the other hand, the project management process allows managers to oversee all the details of a project from start to finish, meaning until that project ends. During this process, project managers will have to go through 5 stages (as the Project Manager stated): initiating, planning, executing, monitoring and controlling, and finally closing the project.
So, with these differences, will ever these two roles work together? The answer is yes, and it is more often than you might think.
When will a product manager work with a project manager?
Let's begin with a scenario where your organization wants to start with a new application (or product. And the product manager will start developing a vision, goals, and a strategic plan, then conduct market research.
After that, the product manager will debate it as a project for the team. And this is where a project manager comes in.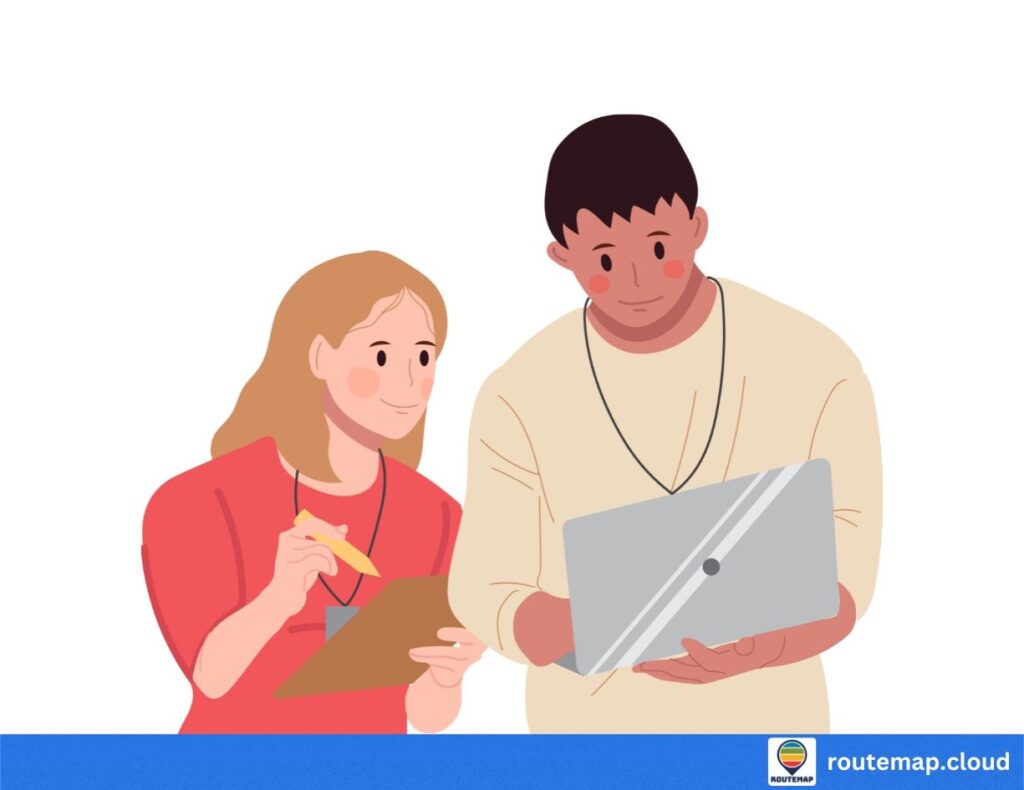 The project manager will now start the project of product development. He or she will have to monitor and evaluate the team's tools, budget, and tasks of each member, ensuring that all deadlines are met.
Therefore, the project manager has to keep communication with the product manager to maintain the project's progress and vice versa. If product managers encounter any obstacles during the development, they can raise it to the project manager and ask for adjustments to the project.
A product manager or a project manager: what role does your team need?
It depends on the initiatives and goals of your company to decide between a product manager and a project manager varies. If your company wants to release new products and keep product development effective, a product manager is the way to go for.
Meanwhile, a project manager is a good decision if your company wants to keep projects on time and track vital metrics or objectives.
Final thoughts
Deciding on a product manager vs project manager will depend on the main purposes and goals of the organization although both of these roles can connect team members and keep the organization moving forward.
The key here is to define what your company's problems and objectives are, besides the company's goals. This will help you choose the right manager for the job. If you are looking for management software for Jira, remember that Routemap is an astonishing option that can fulfill your needs, no matter whether you are a product manager or a project manager.