A product roadmap is a document that outlines the visions, directions, priorities, and progress of a product. And to visualize roadmaps, we usually use Gantt timelines or charts to manage and track any task in that project.
However, they are considered old methods and difficult to understand. Normally, these roadmaps are created on spreadsheets, which have their own limitations such as being hard to customize, time-consuming, and more.
Fortunately, Routemap has arrived to make project management in Jira a whole lot easier.
So, what is Routemap?
It is an app on the Atlassian marketplace that helps develop agile roadmaps and prioritization for Jira. More importantly, it also integrates with your Atlassian products to provide a seamless experience when using Jira.
With Routemap, you and your team can now say goodbye to boring and confused spreadsheets, and start building and collaborating on new visual roadmaps.
Besides, you can also visualize and manage your tasks and releases from multiple Jira projects in one single portfolio roadmap. As a result, this helps reduce the time figuring out which task is from which project and increases your team's productivity.
How can Routemap make you more productive?
If you are still wondering how Routemap can help you complete your tasks better, you can take a closer look at some of its major features.
1. Roadmap for Jira
Having read about roadmaps in the introduction, you will know that they are both vital and annoying at the same time. On one hand, you use it to plan, track, and manage any task. On the other hand, creating a roadmap in a traditional way with spreadsheets or Gantt charts is time-consuming, and it is also difficult to customize if needed.
This is when Routemap comes in and offers just what you need!
Routemap for Jira will help you create a visual presentation of your product roadmap in a more easy-to-understand way. Besides, it is also easier to update, plan, and execute your projects effectively. Everything you need is included in its flexible and advanced roadmap capabilities.
2. Prioritization for Jira
Without a doubt, prioritizing your tasks in a product roadmap is extremely crucial to successful product development because it enables you to know which task needs to be tackled first. As a result, you and your team will not only save time but also ensure the whole project's workflow is efficient.
With Routemap, you can utilize its Prioritization table and Prioritization matrix features to make your work even easier. Additionally, this tool for Jira supports RICE, ICE, and Value vs Effort methods to ensure that you're prioritizing correctly. Or, you can use your own custom prioritizing method if that satisfies your requirements or projects.
3. Product discovery for Jira
Product discovery is the progress that helps product teams have a deep understanding of their targeted customer's problems and needs, then carry out the best solutions to fix them. However, it is risky for teams to develop such a product discovery process alone.
Therefore, to make this process run smoothly with less complexity, your team needs to acquire the user's feedback at the early stage and execute internal work to solve the problem. If you want to know more, there will be a detailed product discovery guide that you can follow and share with your team.
A guideline for beginners on Jira
With all that said, it is time for you to take full advantage of the Routemap tool for Jira. However, if you are completely new and unfamiliar with Jira, we suggest taking a look at our Jira Guru to have the best preparation for the job.
Now, let's dive deep into using Routemap!
Log into your Jira instance.
From the App dropdown tab, you can click "Explore more apps" or go to https://bit.ly/routemap-jira.
From there, search for Agile Roadmaps, Gantt Timeline & Prioritization for Jira.
Once you are inside the app page, you can click "Try it free" and start installing the app.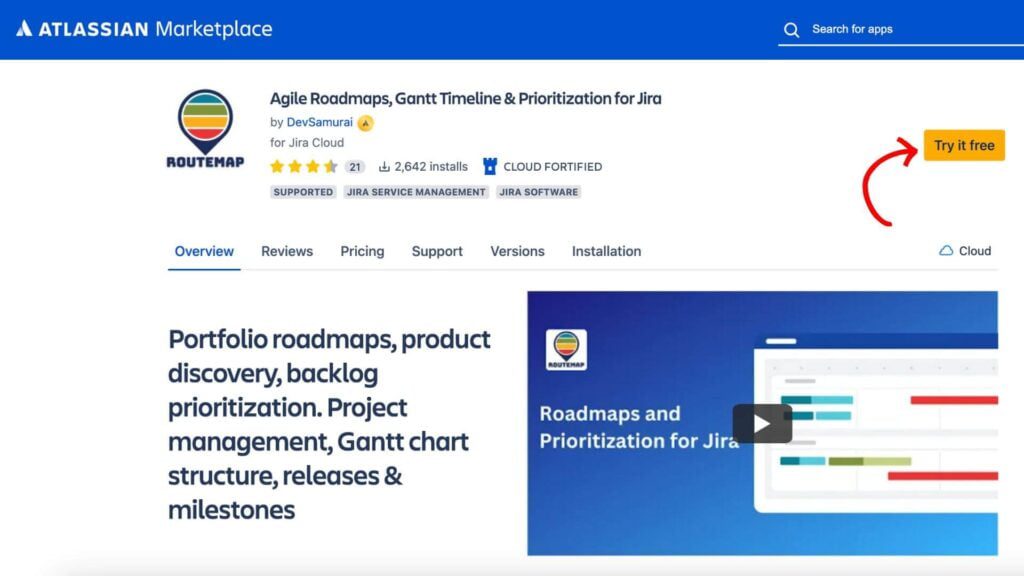 Once completed, you can start implementing all of the Routemap's features in your projects.
1. Create a new product roadmap in Routemap
After installing Routemap, you can access it via the Apps dropdown menu. From there, you can start a new roadmap for your project.
2. Start adding new lanes, containers, or milestones
Once you have completed creating your new product roadmap, you will be taken to the Features Timeline Roadmap, which stands for your product's features.
Here, you can click +Add to create new lanes, containers, or new milestones for your task in the project.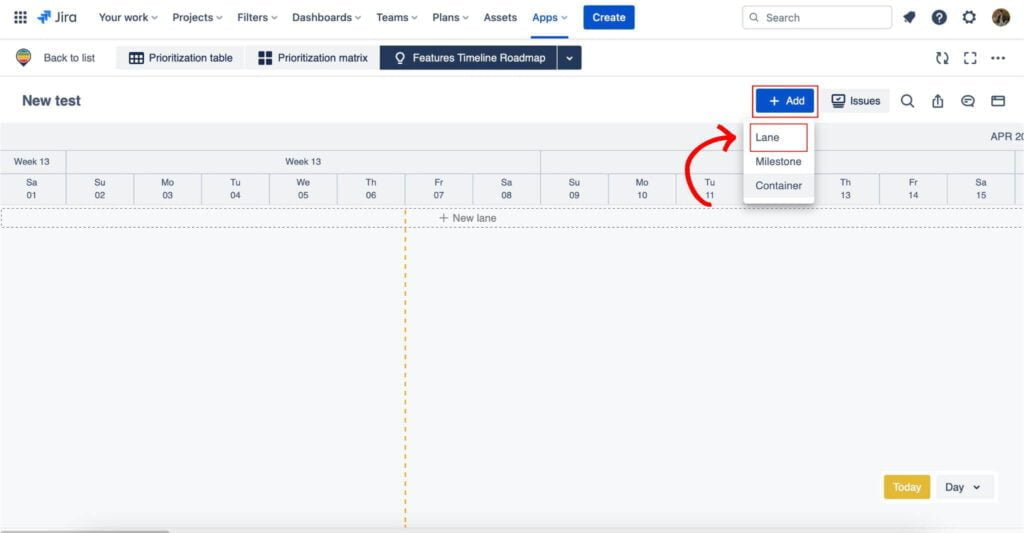 A Container is a collection of issues that your team needs to focus on in the product roadmap. As mentioned above, you can click +Add and create a new Container.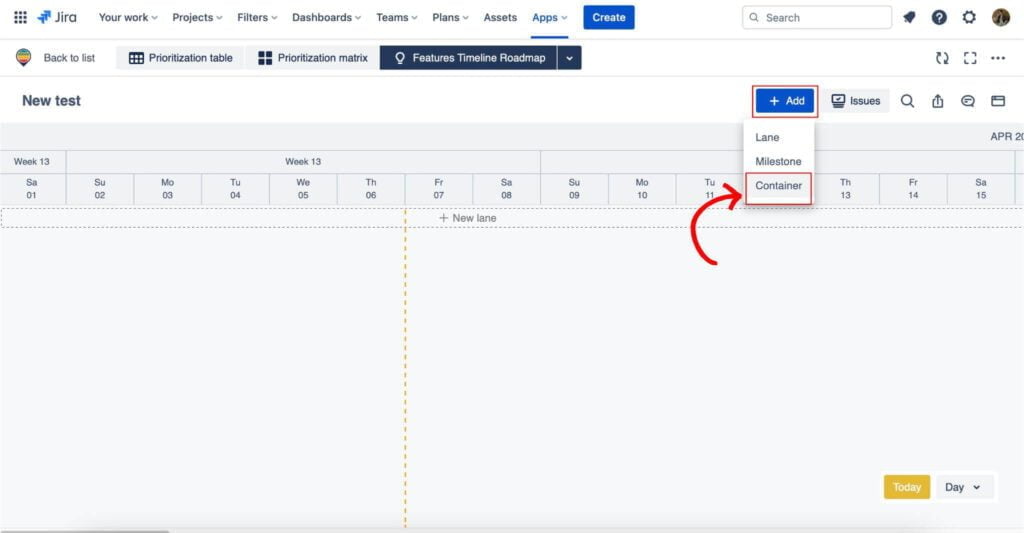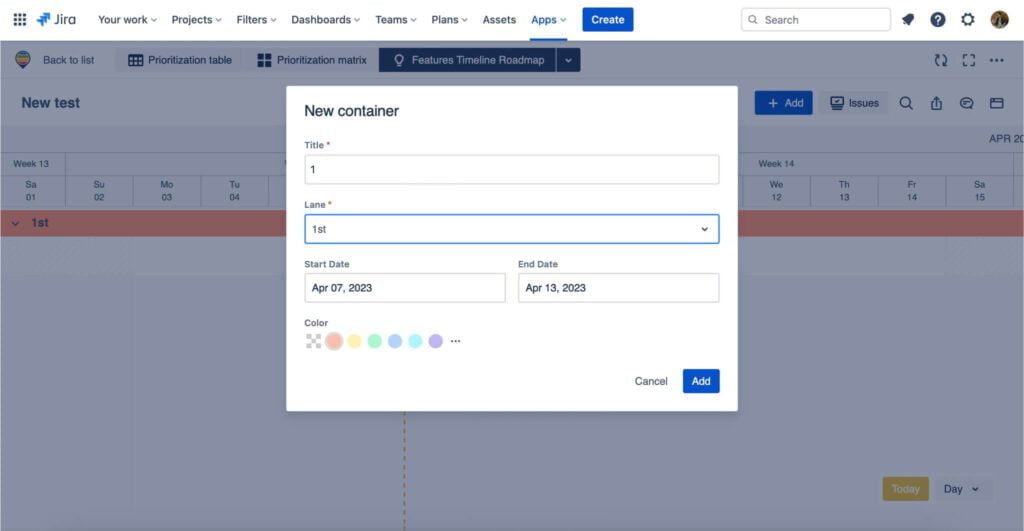 3. Add or create new issues for your project in Routemap
At this stage, you can add the current issues you're having, or you can start adding new ones if your project requires.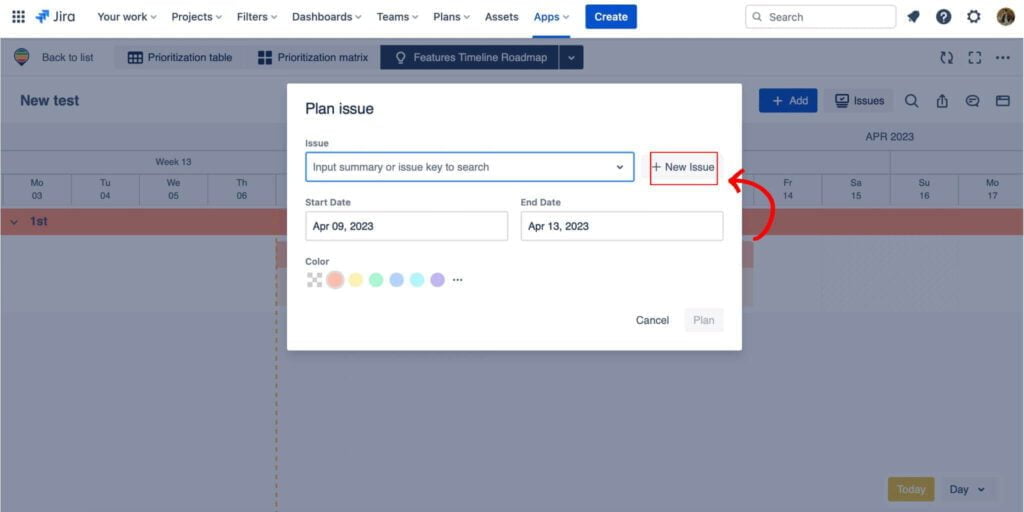 To create new issues, you can just simply click the container which you have just created. There will be a popup window for "Plan issue." Choose +New issue and you can start filling in the information or what needs to be tackled.
Next, you can simply drag and drop this issue to the timeline according to your roadmap plan. Moreover, you can continue to add more new issues and color them to make each issue recognizable.
Remember, Routemap for Jira offers great flexibility and customizability so can make adjustments to this product roadmap at any time.
Tip: If your team is working on new releases, you can do almost the same with Routemap's Release Timeline Roadmap.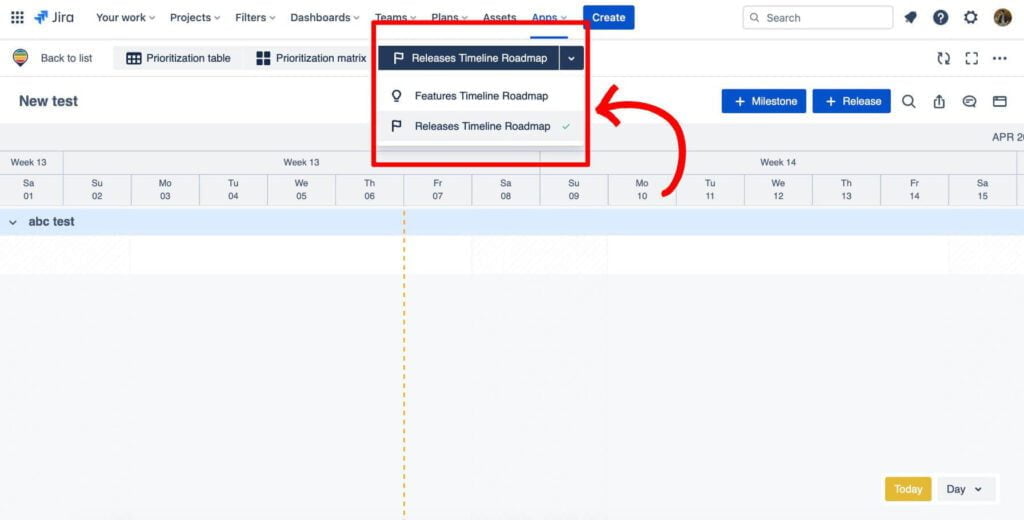 4. Start prioritizing your issues
This is where you will work with your team and decide which task is more important and needs to be completed first. This will allow you, and your team, to work toward the same goal that can truly bring value to your customers.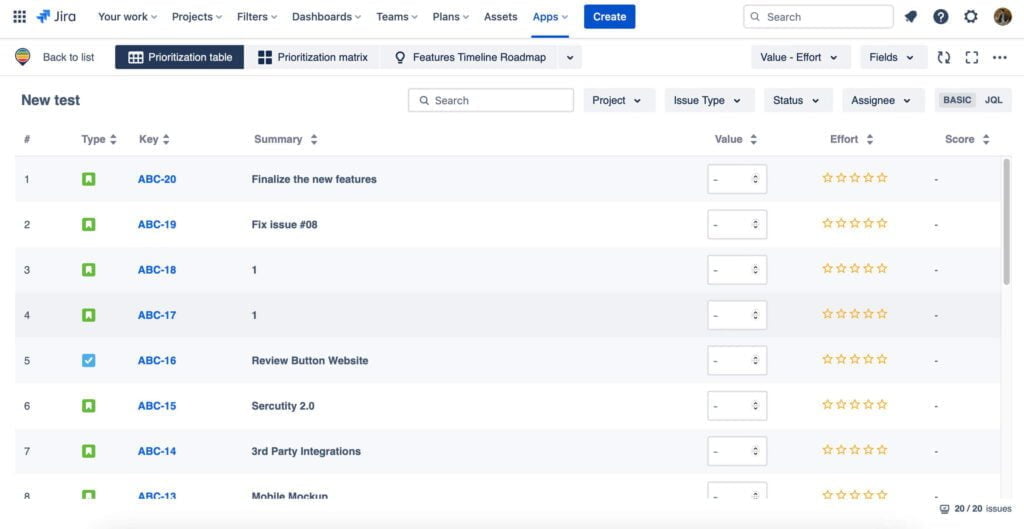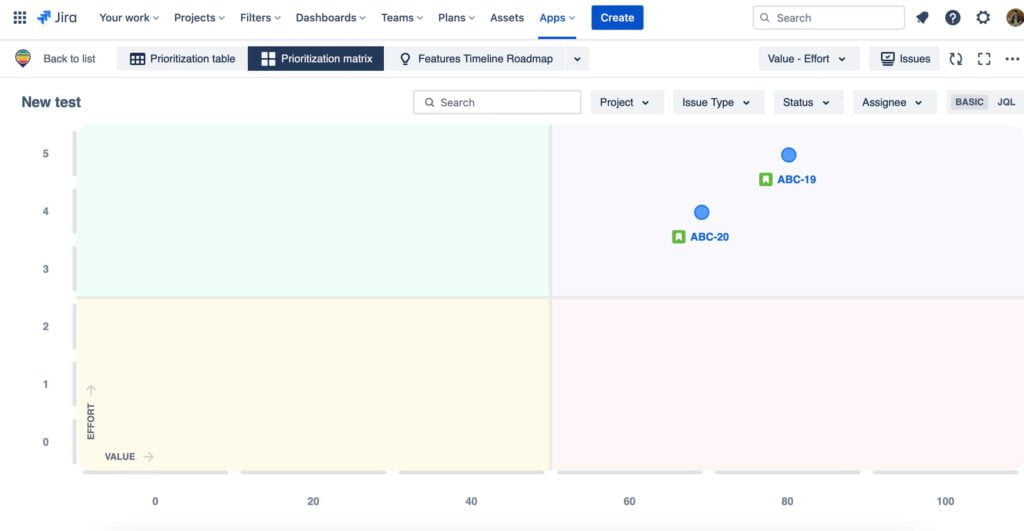 With Routemap, you can utilize the RICE prioritization framework or the Value vs Effort prioritization matrix as methods to help you evaluate and prioritize your tasks appropriately. Besides that, you can also set your custom prioritization method based on your project's needs and requirements.
Conclusion on beginner's guide for Routemap
These are some of the basics about roadmaps for Jira and Routemap you will want to know to work effectively. It doesn't matter how much experience you have with using Jira, roadmap timelines, or Gantt charts, we are here to help you achieve the best possible result.
You can always stay updated with DevSamurai. We offer some of the best solutions you can get to use with Jira and Confluence on the Atlassian marketplace.