For any organization, a product roadmap template plays a vital role in shaping the success and growth of a product. It can help you effectively communicate stakeholders with about your product strategy and vision, gaining their support and trust.
In this blog, we will dive into impressive product roadmap templates that you can use to engage and impress your stakeholders.
How to build a product roadmap
Before diving into which product roadmap template to use, we should take a look at how to build a roadmap effectively.
We also call this a product management process, and it normally includes these steps:
Develop vision
Understand customers
Develop strategy
Start product development
Track metrics
Still, these are just the basics of how to build a product roadmap for you and your team. If you want to take it to another level, you should take a look at our expert tips to build an agile roadmap effectively.
Product roadmap templates to choose from
Now, we can explore the templates that will definitely help you impress your stakeholders in developing your products.
1. Goal-oriented product roadmap templates
The Goal-Oriented (or GO in short) product roadmap template is a strategic roadmap format that centers around the high-level objectives and outcomes you intend to achieve with your product.
Unlike traditional roadmaps focusing on specific features and timelines, a goal-oriented roadmap prioritizes the "why" behind your product's development, aligning it with broader business goals and customer needs.
Besides, a typical GO product roadmap template includes 5 rows "Date", "Name", "Goal", "Features", and "Metrics". From there, you can develop as many columns as you need to break down Epics, Stories, and Tasks related to each row.
More importantly, using the GO product roadmap will empower you to create products that follow the Lean principles or Scrum. You can use it to establish product objectives, monitor release planning, collaborate with development teams, and launch a range of products.
2. Features product roadmap template
It is a roadmap format that primarily focuses on showcasing and communicating the specific features and enhancements planned for a product over a designated period.
This template is particularly useful for organizations that want to highlight the evolution of their product's functionality. Additionally, it also helps demonstrate the value it will bring to users and align development efforts with clear feature-based milestones.
By showcasing features, the roadmap highlights the product's evolution from a user perspective. It demonstrates that development decisions are driven by meeting user needs and enhancing their experience.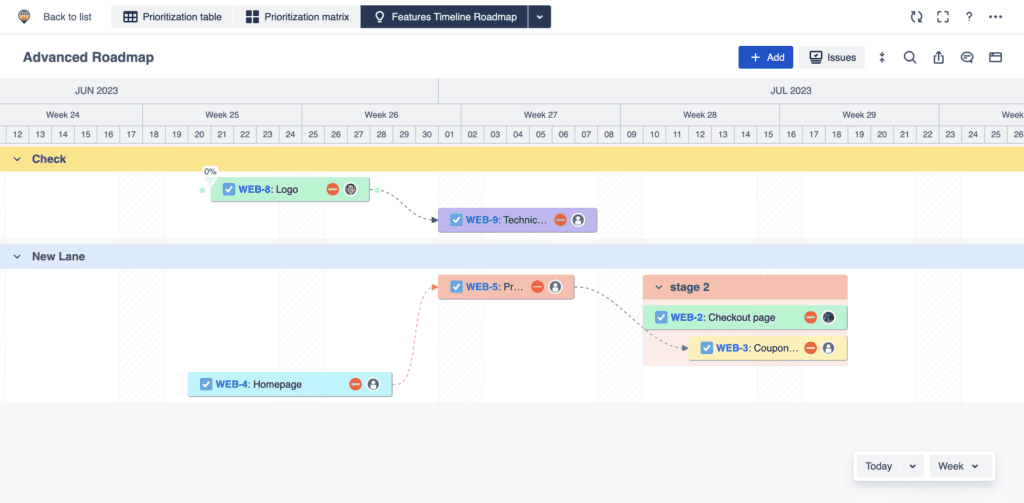 Therefore, this template is a great choice when you want to showcase the evolution of your product's functionality and demonstrate how it will continuously meet user needs and provide value over time.
If you want to utilize this roadmap template for Jira, Routemap will make a great solution. Having all the abilities you need from a Features product roadmap, the app can help you effectively communicate your development plans, align stakeholders, and impress them with a transparent and user-focused approach.
3. Buyer's Journey roadmap template
The Buyer's Journey Roadmap is a strategic product roadmap template that aligns product development and enhancements with the different stages of the customer's journey.
The customer's journey typically consists of several stages, from initial awareness of a problem or need to the final decision to make a purchase. Moreover, this template focuses on delivering features and improvements that address customer needs and pain points at each stage of this journey.
Therefore, you can use this powerful tool to impress stakeholders by showcasing your strategic understanding of the customer experience. You can also show your dedication to delivering value at every step of their journey.
4. Theme-based product roadmap templates
Similar to the GO product roadmap, this type of template focuses on themes. Or, it centers around strategic initiatives, rather than specific features or dates.
Instead of focusing solely on specific features or timelines, this template highlights the broader themes that guide the product's evolution. It is an effective way to communicate the high-level strategic direction of your product and how various features contribute to those themes.
Theme-based product roadmaps are an excellent choice when you want to communicate the high-level strategic direction of your product and how various features contribute to the overall themes. It conveys your commitment to delivering value in alignment with broader strategies and showcases a forward-thinking, holistic approach to product development.
5. Status-oriented product roadmap templates
It is a strategic roadmap format that primarily focuses on providing a clear visual representation of the status, progress, and timelines of various initiatives, projects, or features within a product's development cycle.
Moreover, this type of roadmap is also considered a simple roadmap because it lowers the resolution without any release dates. It leverages status indicators or labels such as "To Do," "In Progress," "Completed," and "On Hold" to represent the current state of each initiative.
This template is particularly useful for communicating the real-time status of different tasks and initiatives to stakeholders. Besides, it allows them to understand the progress and projected timelines of each item.
6. Release product roadmap templates
Normally, we use a Release product roadmap for customer presentations. It is suitable to showcase the release plan of a new product or conduct a customer webinar illustrating the upcoming product deliverables.
Moreover, it provides a summary of upcoming features set for release, monitors their progress, and communicates the timeline of the development process to others.
And if you want to experience this release product roadmap template for Jira, Routemap will be ideal for you. It can help you plan your product releases in a more understandable way and showcase deliverables in each release.
Final thoughts
An impressive product roadmap template is more than just a list of features and dates. It's a strategic communication tool that showcases your vision, planning skills, responsiveness, and adaptability.
By understanding your stakeholders, maintaining clarity and simplicity, and incorporating visuals and metrics, you can create a roadmap that will impress your stakeholders and rally their support.